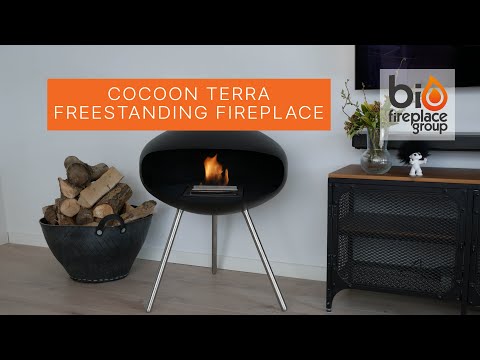 Cocoon Terra - Matte Black with Steel Legs
Item number: BIO-70-105
Cocoon Terra is a beautuful free-standing bioethanol fireplace, standing on three legs. This model can be moved as needed and fits perfectly in to any home.
Go to product description
Availability:
15 in stock
Delivery time:
3-5 days
2-3 weeks
3
---
Product Description
Terra Free-standing fire from Cocoon Fires in black matte
Stylish bio fireplace from Australian Cocoon Fires. The well-known globe mounted on three legs creates a stunning combination. Cocoon Fires' Terra is a stylish furniture usually seen in interior stores because of its stylish appearance. Terra often works as an eye-catcher whatever the size of the room is.
1.5 L burner

Electricity not required

Easy to install and use
It is easy to detach the globe from the base so that the fireplace can be packed down and moved to for example cottage.
If you're in doubt, this fireplace is made to be either a free-standing or ceiling mounted one. It was designed so cleverly that it can be transformed from free-standing to ceiling mounted. All you need is a pole to mount it to the ceiling.
Cocoon Terra was designed by Federico Otero and this model is available in both matte black and polished steel.
---
Specifications
Burner
316 Marine Grade Stainless
Illustration
---
Reviews
"With the Foco Two 800 from Bioethanol-fireplace.co.uk, it has become much easier to create the "hygge" in the apartment. It was very easy to install and doesn't require any ventilation."
"We bought our Cocoon bioethanol fireplace at the lifestyle fair, where we got the right, helpful and kind advice and guidance to find the best bioethanol fireplace that met our needs."
"We live in an older house, and would like to find a bio fireplace that could fit into our house style. After some inspiration and good guidance from the website, we chose a built-in solution, which was integrated into a new stone wall. A solution we are super happy with."
"We are very satisfied with our fireplace purchased through bioethanol-fireplace.co.uk. We have chosen a bio fireplace primarily due to the fact that it creates coziness and a good atmosphere in our living room."
"We are very satisfied with the service"
"So happy with my cheap and very nice bio fireplace!"