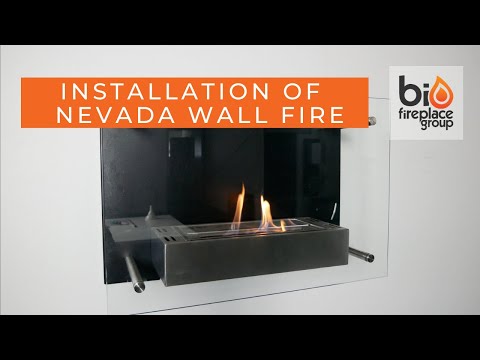 Nevada Wall Mounted Biofireplace
Item number: BIO-10-008
Black wall-mounted bio ethanol fireplace with a front panel made of glass. Can burn for up to 6 hours.
Go to product description
Availability:
76 in stock
Delivery time:
3-5 days
4-8 weeks
3
---
Product Description
Nevada Wall-mounted Bio Fireplace 1,5L
This unique and extraordinary bioethanol fireplace is a bestseller because of its distinctive features. The large safety glass allows for greater enjoyment and a better view of the beautiful fire. The black background is a great contrast to the flames, making them stand out and stand out more strongly. The design of the bio ethanol fireplace is refined and trendy, and the stylish design also makes it blend in with its surroundings as well and easily create a wonderful and calm atmosphere.
The Nevada burn chamber is manual, which means that the bioethanol is filled directly into the flame opening of the burner, and the flames can be adjusted with the included tool. If less heat/flame is desired, the metal plate can be pushed partially over the flame using the tool - if it is to be extinguished, the metal plate is pushed completely over the flame to smother the fire.
This bio fireplace is easy to maintain and clean, as it does not produce smoke or soot in its surroundings. The glass can be polished with ordinary glass cleaner.
Worth knowing
No electricity required
Easy and quick to install
Can burn for up to 6 hours on a full fill of bioethanol
Never fill bioethanol on a hot fire vessel
This is included
1,5L capacity burn chamber
Extinguishing tool
Safety glass
Wall bracket + all mounting parts
Nevada fireplace is also available in a double version, see it here.
---
Specifications
Burner
Recommended air change rate
---
Customer Photos
---
Illustration
---
Reviews
"With the Foco Two 800 from Bioethanol-fireplace.co.uk, it has become much easier to create the "hygge" in the apartment. It was very easy to install and doesn't require any ventilation."
"We bought our Cocoon bioethanol fireplace at the lifestyle fair, where we got the right, helpful and kind advice and guidance to find the best bioethanol fireplace that met our needs."
"We live in an older house, and would like to find a bio fireplace that could fit into our house style. After some inspiration and good guidance from the website, we chose a built-in solution, which was integrated into a new stone wall. A solution we are super happy with."
"We are very satisfied with our fireplace purchased through bioethanol-fireplace.co.uk. We have chosen a bio fireplace primarily due to the fact that it creates coziness and a good atmosphere in our living room."
"We are very satisfied with the service"
"So happy with my cheap and very nice bio fireplace!"