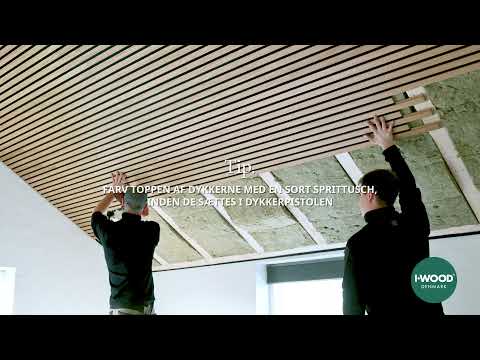 I-Wood Acoustic Panels - Pro+ - Walnut
Item number: BIO-P107-Walnut
I-Wood Pro+ acoustic panel in walnut finish. Designed and produced in Denmark. Available in multiple configurations. Each panel is 30 cm wide.
Go to product description
Availability:
5 in stock
Delivery time:
3-4 weeks
3-4 weeks
1
---
Product Description
I-Wood Pro+ Acoustic Panels - Walnut
A decorative solution for walls and ceilings adding to better acoustics in your home. Incorporate nature in your home decor or at the office with these acoustic panels of the highest quality.
The panels are made with a walnut veneer finish making a stunning aesthetic and elegant expression in any room.
Pro+ is often used on ceilings and is made with "finger joints". The panels are made with milled out acoustic fields on the back so that the sound can travel up through the felt. With I-Wood Pro+ and any underlying mineral wool you get the most optimal acoustics. The coverage area for each panel is 300x2400mm.
I-Wood focuses on functionality and acoustics. Therefore, the acoustic panels solve the challenges that many homes and offices face today. We decorate in a very minimalist style with large open spaces and hard surfaces. It comes with degraded acoustics and reverberation because sound waves are thrown back and forth. These panels used for ceiling and wall coverings can significantly alleviate this problem.
Whereas most I-Wood panels are available with a black or a light coloured core. These panels with a Walnut finish is only available with a black core.
NB: Minimum purchase is 4 panels.
Configure Your Panels
Felt Colour
Choose the colour of the felt. Where many similar products only offer solutions with black felt. I-Wood's wooden panels are also available with a grey coloured felt.
Among the most sound-absorbing
I-Wood combines design, acoustics, and sustainability in one panel, and therefore you can now get rid of poor acoustics in your home or office. Poor acoustics can often be annoying to people staying in the room, and in a work environment, it can lead to reduced efficiency and job satisfaction.
For optimal acoustics, a room should have a reverberation time of 0.6 seconds. What determines this and the sound attenuation is amongst other things, the decor, materials, furniture, curtains, etc. As a rule of thumb, 25%-35% of the surface area of a room should be covered with sound-absorbing materials.
I-Wood has multiple accredited reports, that their acoustics panels are among the best and by placing an insulation material behind the panels, you can even further increase the acoustic properties. It is recommended to use 45mm insulation behind the panels.
Easy installation of acoustic panel
I-Wood offers incredible simple installation and can be installed by most private persons. Even without any previous knowledge of installing acoustic panels. If you choose to use a contractor for the installation, you can save working hours, compared to the vast majority of other alternatives of acoustic panels.
Each I-Wood panel is made out of one large MDF board, making it simple to attach to any wall or ceiling. The recommended method for installation would be to use a nail gun, to nail the panels through the felt strips, which will then hide the small nails when installed. Another solution would be to fasten the panels using adhesive on the back of each panel.
To make a seamless assembly of multiple panels, simply slide two panels together and they will fit into each other.
It is also easy to adjust the panels with, for example, a trimmer or plunge saw. This applies to both the length and the width. In the spaces between the strips and the plate behind, they have managed to mount the felt. This makes the adaptation to the lamp socket and spot very easy.
Finger Joints
The finger assembly makes a seamless transition and connection of panels when connected in length.
Therefore, if one has to put together several panels in length to cover the surface I-Wood Pro+ panels will be the perfect choice.
Finger joints add 15 cm in length at each end of the panel.
Certifications
Fire-retardant felt - EN13501 Class B
Health-labeled felt - OEKO-TEX® Standard 100
TripTrap Oil - fire tested
Absorption effect - EN ISO 354 (NRC = 0.85)
Fire classification D-s2, d2 (EN 13823)
---
---
Reviews
"With the Foco Two 800 from Bioethanol-fireplace.co.uk, it has become much easier to create the "hygge" in the apartment. It was very easy to install and doesn't require any ventilation."
"We bought our Cocoon bioethanol fireplace at the lifestyle fair, where we got the right, helpful and kind advice and guidance to find the best bioethanol fireplace that met our needs."
"We live in an older house, and would like to find a bio fireplace that could fit into our house style. After some inspiration and good guidance from the website, we chose a built-in solution, which was integrated into a new stone wall. A solution we are super happy with."
"We are very satisfied with our fireplace purchased through bioethanol-fireplace.co.uk. We have chosen a bio fireplace primarily due to the fact that it creates coziness and a good atmosphere in our living room."
"We are very satisfied with the service"
"So happy with my cheap and very nice bio fireplace!"